Preparing health insurance funds for the future
Our client portfolio already includes some well-known health insurance companies. We accompany them on their way through change and ensure that the teams are positioned for the future.
We have summarized here how we proceed and what is important for change to succeed.
Often, the everyday life of companies in the health sector is determined by increased complexity and speed. This also has an impact on areas that are characterized by more traditional structures and mechanisms.
Digitalization and change dynamics are shaping the current picture of the industry here. Health insurance funds in particular are under pressure to evolve and implement new, innovative ways of working in order to successfully master these changes.
The gap between income and expenditure is widening. Outdated business processes and infrastructures complicate the digitization process. Solutions are needed here that facilitate the individual processes and make them measurable for later analysis.
Especially in the field of recruiting bright minds, but also when it comes to winning over customers, competition is constantly increasing. Both need the convincing added value that has to be worked out internally. What do we stand for? In this context, it is important to expand classic forms of work with new forms of digital collaboration in order to be able to act faster and more flexibly.
People who reach for their smartphones in almost all aspects of life also do so when it comes to their health. The boundaries between fitness and medical indications are becoming increasingly blurred. Thus, it is above all the consumer and the patient who are driving the digital transformation. This also applies to employee processes and team management. The advantages of digital applications are pointing the way to teamwork.
Creating a new way of collaboration with digital Team Optimization
The digital Team-Instrument creates clarity on how to find the optimal field of application in the team for each person, where their own potential, values and motivators can be optimally utilized.
Responsibilities and contributions to the achievement of objectives are clearly and intrinsically determined in order to use the maximum engagement of the employees. Potentials that are not being used are identified and can be developed in a targeted way to create high-performance teams that are fit for the future.
Full use of team potential for the change process
A digital analysis of the team's potential makes visible where to start for a personalized optimization and reveals the central focus of development for each team: strengths of the collaboration become analytically visible and can be consciously utilized. Regular repetition of the potential analysis shows progress and ensures continuous further development of the team so that the full potential can be used.
"We use the MONDAY.ROCKS team tool as part of VIACTIV's personnel and organisational development. As a health insurance company, we operate in a very dynamic market. In order to master all the challenges this brings, we need maximum performance potential from our teams. I am convinced that good collaboration is the key to success. MONDAY.ROCKS helps us to strengthen this."
VIACTIV personnel and organisational development
VIACTIV has been working closely with MONDAY.ROCKS since 2020. The support of the first pilot teams was used to train internal team architects who can autonomously carry out the roll-out in the entire company. This benefits the sustainability of the implementation – a permanent use of external consultants is no longer necessary.
The team instrument was integrated in a customized way into existing approaches and offers of VIACTIV's personnel development. Due to the high degree of digital automation, the support could also optimally take place remotely – an advantage that became particularly apparent in the pandemic and led to the fact that this did not detract from the successful cooperation.
Integration of a new type of collaboration at AOK PLUS
AOK PLUS has recognised the opportunity and the potential of a new type of leadership and cooperation for itself and has been undergoing a continuous learning and change process in the form of agile, self-organised teams ever since. MONDAY.ROCKS is a central component in this process. At the beginning, the application was used to accelerate the forming phase of the new project teams and to support appreciative collaboration. How are the teams structured? What is important to whom and what should be paid special attention to? Questions like these were quickly clarified with the help of short digital analyses, so that the focus could quickly be placed on the project topics as such.
Since then, the success of the collaboration at AOK PLUS has been regularly assessed by means of potential analyses, making visible what is going particularly well in the team and where there is still potential for improvement – challenges of the teams could thus be made visible and addressed before they could endanger the team's success.
"At AOK PLUS, we integrate new methods of leadership and collaboration. For this, we need to identify the key success factors and challenges within our teams. The team tool helps us to make these visible, and to build our teams in a way that keeps them committed and focused."
Always one step ahead with digital analyses
Every decision that successfully leads through the change is supported on the basis of digital analyses. Based on these, the development of the teams becomes visible and measurable:
Where is potential for improvement?
Where have we developed further?
Do positions need to be adjusted?
What are our next goals?
What steps need to be taken to achieve them?
Nathalie Ritter
Business Development
Schedule an appointment for a personal meeting, where we will show you how our team tool can be used in your company.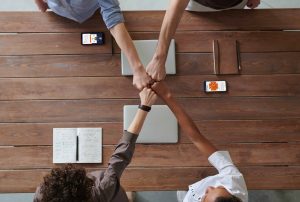 Successful companies have one thing in common: they are capable of change. Failed change processes find their root cause in lack of acceptance by staff,
Lesen »
Team development is not a one-day workshop, but an ongoing process. In order not to leave development to chance, but to be able to concretely
Lesen »